Breast Forms
Need silicone breast forms? DressTech EU carries our very own DressTech Proforms brand. Try Proforms for high quality that won't break the bank! With a variety of breast form size, shape and style options, you are sure to find what you need here at the DressTech store.

Don't forget to check out our breast form accessories including DressTech Breast Form Adhesive and Adhesive Remover, or Proform Precision tapes (custom designed specifically for our Proform breast form line). Want to customize your breast forms or just add a little "perk" to your own chest? Check out our Proform Perks, a self adhesive, realistic prosthetic nipple with 4 colours to choose from and a pierceable option! Not sure what you are looking for or where to begin? See the guides below or contact us. Our factory-trained breast form fitters are happy to help you choose from many styles, colours and sizes.
Step 1: Determine your band size.
Measure your chest circumference approximately two inches below the nipples. Round the measurement to the nearest whole number of inches. Then, add an additional 4 inches if you got an even number. Add an additional 5 inches if it was an odd number. This is your bra band size.
Example: If you measured 32.25″, you would round to 32″ and add 4 more inches to get 36″. If you measured 34.75″, you would round to 35″ and add 5 more inches to get 40″.
Note: Why is this so confusing? Well, bra sizing was originally measured across the fullest part of the breast. Shortly after WWII, the whole world switched to measuring just beneath the breast. However, US bra manufactures refused to adjust their bra sizing, so we have to add 4 or 5 inches. The "Plus 4" method was devised as a temporary fix and has persisted to this day.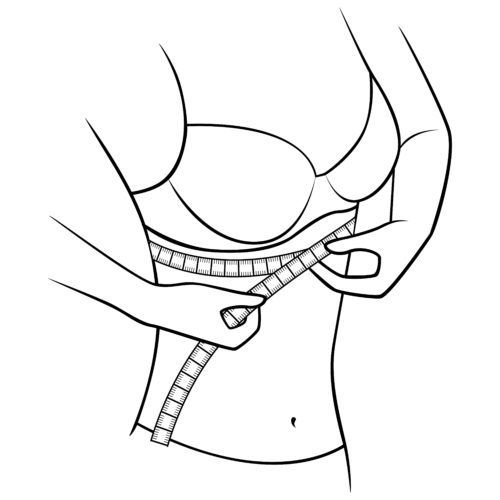 Step 2: Determine your desired cup size.
Consider the following to get you into the ballpark:
A or B cup looks natural on a slim figure and won't attract too much attention.
C or D cup looks attractive and balanced on average body types.
E or larger tends to look best on larger, curvy figures.
The best cup size is a matter of personal preference; there's no right or wrong answer. Smaller breasts are more comfortable to wear for extended periods and may attract less attention when trying to pass in public. However, larger breasts will help your sexy evening attire pop. Think about your habits and goals, then pick a cup size that works for you.
Step 3: Breast Form Size
Each brand and style of breast form fits a little differently. Use the appropriate chart below to find your recommended breast form size.
PROFORM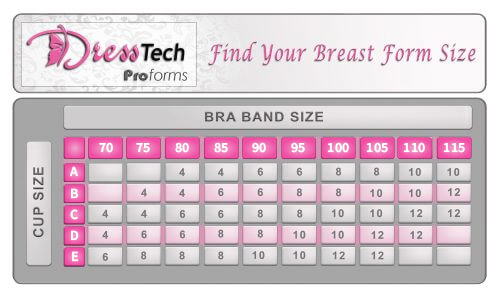 Adhering breast forms is a useful skill to learn. Additional breast form support, provided by adhesives, will be appreciated when you wish to wear a low-cut bra, lingerie or strapless dress. Furthermore, adhesive improves how you feel the weight and movement of your breast forms to provide a more realistic experience.
Consider the following ways to attach your breast forms:
Breast Form Tapes
Breast form tapes provide a convenient and mess-free experience. Simply apply one or two pieces to each breast form and then stick them onto your chest. For optimal bonding, ensure that your forms and chest are clean and dry. The tapes are pressure sensitive and adhere best after holding the breast forms firmly against your chest for 30-60 seconds.
DressTech Proforms breast forms come with the tape option of Proforms Precision Tape Kit. This Dresstech exclusive breast form tape is die cut to specific Proform sizes and styles (Enhanced or Natural) for a fit that ensures maximum adherence to your skin. The Proform Precision Tape kit is designed specifically for our Proform breast form line and includes instructions and skin-tac wipes. These custom fit tapes are a truly superior option to generic V-Tapes.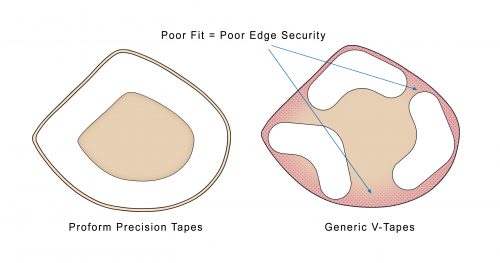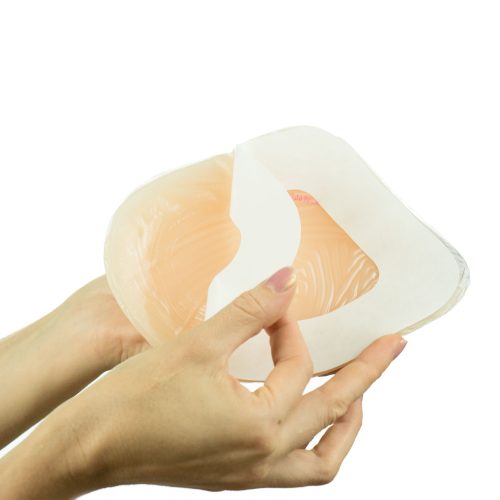 When it comes to making your tapes last as long as possible, you can reactivate the adhesive tape with skin-tac wipes and reapply the breast form several times. The effective lifespan is subject to your levels of oil and perspiration. When the tapes are no longer tacky, you can remove them and apply fresh tapes. Please be very gentle to avoid damaging or tearing the breast forms.
Glue
Use DressTech Breast Form Adhesive and DressTech Adhesive Remover for a more professional result. It's messier than breast form tapes but it achieves superior coverage and holding power. Shake the bottle and spray an even coat directly onto your breast forms. Allow to dry for 5 minutes before applying your breast forms. As with breast form tapes, ensure that bonding surfaces are clean and dry, and hold breast forms firmly against your chest for 30-60 seconds.
Remove breast forms from your body by gently peeling from the edges. Adhesive residue may be removed from the skin with DressTech Adhesive Remover, baby oil or makeup remover.
Self-Adhesive Breast Forms

Shape: Triangle shapes are the most popular. They provide a very natural appearance. Round shapes provide a fuller, augmented look as one might see on modern-day models.
Detail: Our most affordable breast forms offer little skin and nipple detail. However, this is no problem when they are inserted into a pocketed bra or otherwise hidden from sight. Or, try our Proform Perks self-adhesive realistic nipples. These high quality, hyper-realistic silicone nipples come in 4 colours and can be customized with a pierceable options and a selection of nipple piercing jewelry. You can attach our Proform Perks directly to your skin or breast form by themselves or for extra staying power, they are compatible with Dresstech Breast Form Adhesive.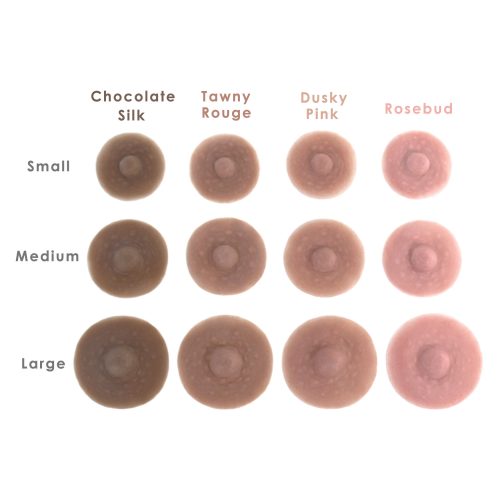 Self-Adhesive: All of our breast forms may be adhered with tape or glue. However, self-adhesive breast forms feature a reusable tacky surface and allow for greatly improved convenience and comfort.